About Stewart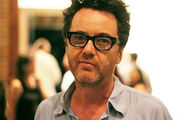 Hugh Stewart was born in New Zealand and grew up on a farm. He displayed no interest in farming, and fairly smartly absconded to Europe. It was while residing in a notorious London squat in the early 1980s that he first picked up a camera and started taking portraits of his friends. Following a particularly spectacular eviction, he returned, via New York, to the Southern Hemisphere. This time Sydney. It was here, faced with the prospect of actually having to work, he put together a portfolio and received his first assignment, (for Australian Vogue). This led to further commissions for magazines and advertising agencies. Encouraged, he returned to London and New York where he lived until 2006. He now lives in Sydney with his wife and three children but continues to work between Australia, the US and Europe. In his time he has worked for I-D, The Face, British, Australian, French and American Vogue, Conde Nast Traveler, Travel and Leisure, Vanity Fair, Rolling Stone....
His Work With Miranda
References
Community content is available under
CC-BY-SA
unless otherwise noted.