About Chee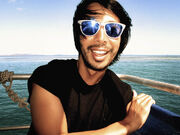 As one of Australia's most sought after fashion and beauty photographers, it's lucky Steven Chee counts photography as his passion, as well as his career. Renowned for his relaxed, friendly and dedicated approach, as well as his ability to deliver inspiring and captivating imagery, Chee's style remains polished, chic and flawless, whether he's shooting beauty, fashion, or portraiture. Highly regarded by fashion titles including Vogue Australia, Harper's Bazaar, InStyle, Cosmpolitan, Marie Claire, Shop Til' You Drop and Mens Style,Chee boasts vast editorial experience from over 20 years in the industry. Advertising clients such as SKII, Olay, Marcs and Rhodes & Beckett, rely on him to bring their brands to life, and create images that speak to thousands. Chee enjoys any opportunity to travel locally or internationally with his work, and relishes that no two days are ever the same. Be it swimwear in Fiji, fine suiting in Milan or studio shoots with Erica Packer, Cate Blanchett and Kate Bosworth he's always looking to take on new and exciting challenges to ensure a premium result.
His Work With Miranda
References
Community content is available under
CC-BY-SA
unless otherwise noted.